With Belgium and England through from Group H in 1st and 2nd respectively, the group stage of the 2018 FIFA World Cup has officially come to an end. Now, we have a day off to relax before the real fun starts on Saturday.
To fill the World Cup void in your day, we have decided to rank all 32 teams at the World Cup based on performance. We will be judging it on a number of different factors, including but not limited to: expectation vs reality, shock factor and overall match performance.
32 – Germany
It was a tournament to forget for the world champions as they crashed out of the group stage at the bottom of Group F, finishing behind South Korea, Mexico and group winners Sweden. Germany come rock bottom in our rankings, despite not picking up the least points in the tournament. Quite simply, they fell way below expectations and therefore, can easily be considered the worst team of the group stage.
31 – Poland
Another team who did at least win a game, yet, as another top seeded team, a fourth-place finish and group stage elimination is considered a failure for Lewandowski and co. This Poland side is in dire need of a rebuild, with many of their first team starters sadly finishing their, possibly final, World Cup early.
30 – Egypt
Despite Mo Salah's fairytale season with Liverpool, the World Cup has proven that the tournament is about the best of team football; not individual talents. The Egyptians finished bottom in Group A alongside hosts Russia, Saudi Arabia and Uruguay; suffering an unexpected defeat to the Saudis in their final game. 0 points and the Egyptians are going home early.
29 – Morocco
Tipped by many to be dark horses at this year's World Cup, with a whole arsenal of talent, Morocco fell short of the mark and crashed out of the tournament with just one point. They put in some unremarkable performances against Portugal and Spain but in reality, their tournament was over after they lost to Iran in their opener.
28 – Australia
In all fairness to the Socceroos, they were hardly expected to qualify from a group alongside the likes of France, Denmark and Peru. However, with just one point, a hard earned draw with Denmark, they come 28th in our power rankings.
27 – Costa Rica
After being one of the brightest stars at the 2014 World Cup, Costa Rica fell short of expectations this time round and finished with just a point, earned in a 2-2 draw with Switzerland in the final game of the group stage.
26 – Panama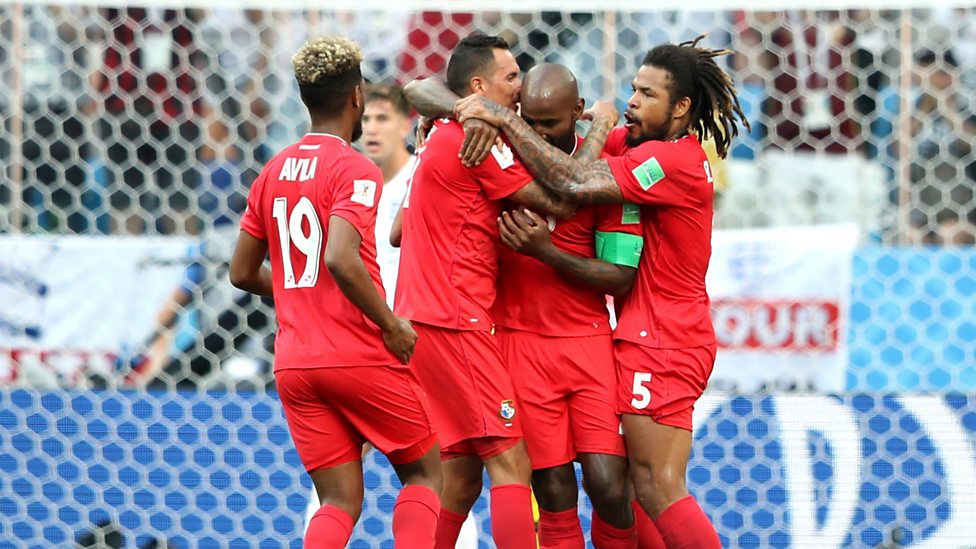 Panama's journey to the World Cup was a true underdog story and one which resulted in them bringing the entire United States to its footballing knees. Scoring two goals, including a memorable goal in their 6-1 defeat to England. They may have conceded the most goals at the tournament but to say they were the worst team is a bit unfair.
25 – Saudi Arabia
It was a tough call between Iceland and Saudi Arabia for 25th place but unfortunately the Saudis take the spot. Despite a victory over Egypt in the final game, a 5-0 demolition job by hosts Russia on the opening day set the precedent for their ultimate failure.
24 – Iceland
There was no repeat of Iceland's heroics at Euro 2016, despite recording an impressive 1-1 draw against Argentina; in which Lionel Messi had a penalty saved. However, defeats against Nigeria and Croatia meant that Iceland finished bottom of their group – but credit must go to the side for making their World Cup debut.
23 – Tunisia
Stuck in a tough group alongside the spirited Panama, England and Belgium; Tunisia were never likely to progress. They picked up three points against Panama, but only just – and failed to make their mark as the highest ranked African nation in the tournament.
22 – Nigeria
Despite having one of the most sought-after kits at the World Cup, Nigeria narrowly missed out on qualifying from the group stage. It all came down to their final game against Argentina, after defeat to Croatia and victory over Iceland. Unfortunately, they lost to the Argentines and crashed out.
21 – Serbia
Serbia, with the high profile names of Sergej Milinkovic-Savic and Nemanja Matic, amongst others, were expected to put up more of a challenge in Group E. However, dramatic defeat to Switzerland and a classic performance from Brazil put them out before the round of 16 can begin.
20 – Peru
Peru were another fairytale team at this year's World Cup, qualifying above the likes of Chile from South America. Unfortunately, they played Denmark and France in their first two games and a win against Australia was too little, too late.
19 – Iran
Stuck in a tough group with Morocco, Spain and Portugal, Iran managed to achieve an impressive four points, from a win over the African side and a dramatic draw with Portugal in the final match day. However, they just missed out and have head home early.
18 – South Korea
South Korea finish 18th in our group stage power rankings, purely for their elimination of champions Germany in the final match day. Despite defeats to Sweden and Mexico, they sent the Germans home in tears in a 2-0 win that fans of both sides will not forget for many years to come.
17 – Senegal
The highest ranked team not to qualify, Senegal are also the first team in World Cup history to be eliminated because of FIFA's fair play rule – which saw them crash out for receiving more bookings than Japan. The young lions of Senegal were unfortunate but can go home knowing they did their country proud.
16 – Argentina
We almost cried for them, Argentina. One of the hottest topics of the 2018 World Cup; Messi, Maradona and Sampaoli all making headlines – for all the wrong reasons. Talk of a mutiny at one point and picking up just four points, it is a wonder that they qualified for the round of 16 – therefore, we rank them as the lowest team to qualify. Set to play France in the next round, we will see one of the pre-tournament favourites crash out in just the second round.
15 – Japan
Japan, inversely to Senegal, are the first team to qualify for the Round of 16 of a FIFA World Cup due to fair play. They will take on Belgium in the next round and will be hoping to find some spirit to carry them through. They've played well but again, have not been outstanding, suffering a 1-0 defeat to 4th placed Poland on the final match-day.
14 – Colombia
Colombia topped Group H, yet struggled to impress across the board in all their matches. A defeat to Japan in their opener and a narrow victory over Senegal were only salvaged by a commanding victory over Poland. Colombia will take on England next, in what promises to be a tight, fiercely contested match.
13 – Switzerland
Unlucky for some, number 13 is where Switzerland place on our power rankings. They beat Serbia, thanks to a late winner from Xherdan Shaqiri – whilst drawing with both Costa Rica and Brazil. One of only nine unbeaten teams in the World Cup, Switzerland could have a lot more to offer as they prepare to take on Sweden in the round of 16.
12 – Russia
The hosts kicked off the World Cup with a bang, obliterating Saudi Arabia in the first game of the tournament. Since then, they defeated Egypt yet were humbled by a solid Uruguay side, who topped Group A. Russia will play Spain next as they call upon stars like Aleksandr Golovin to put in a shift and defeat the former world champions. They have looked good but one can only wonder how far home advantage will take them.
11 – Sweden
The only 1st placed team to finish below the 2nd placed team in our power rankings, Sweden looked good but unremarkable as they managed to top a tough group alongside Mexico, South Korea and Germany. Despite a loss to Germany, they defeated Mexico 3-0 and beat South Korea to book their place in the R16 against Switzerland.
10 – Denmark
Spearheaded by Tottenham playmaker Christian Eriksen, Denmark finished 2nd in Group C behind France. The Danish have shown promise and remain unbeaten, although drew two games against France and Australia; narrowly beating Peru. They take on Croatia next in what may be a difficult challenge for the Danes.
9 – Portugal
Portugal, bar Cristiano Ronaldo, have looked average at best. However, taking the dough out of the pizza leaves you with nothing but toppings and cannot really be considered a pizza at all. A strange metaphor, yet one which perfectly describes Portugal and why they rank 9th in our power rankings. They take on Uruguay next in what is likely to be one of the R16 games to watch.
8 – Mexico
Another team responsible for Germany's embarrassing exit, Mexico have been a bright light in this year's tournament. Led by the performances of Hirving Lozano, Mexico are unlucky enough to face Brazil in the next round in what will be another tight clash. With a 1-0 win over Germany, a 2-1 win over South Korea and a 3-0 defeat to Sweden so far, Mexico could have a surprise or two left in them.
7 – France
France, as expected, qualified atop Group B. However, they were less than impressive and managed to score just an average of a goal a game; despite their wealth of attacking talent. They take on Argentina next and will need to be at their best to progress to the next round. They drew 0-0 with Denmark, whilst beating Peru 1-0 and defeating Australia in a narrow 2-1 victory.
6 – Spain
Another former world champion that has looked a bit off their usual self, you simply cannot ignore the threat posed by the Spanish. They came 1st in Group B thanks to goals scored but drew with Morocco on the final match-day, only avoiding defeat thanks a late goal awarded by VAR to Iago Aspas. Russia await Spain in the next round, so the Spaniards may fancy their chances…
5 – England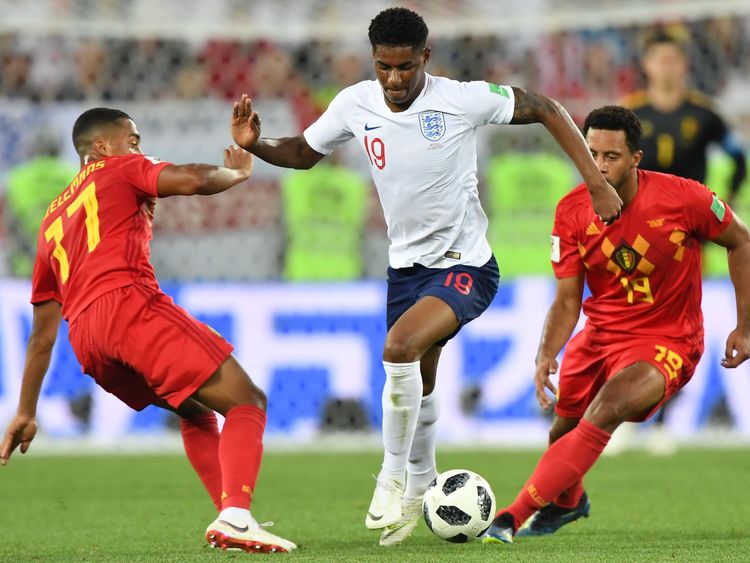 Before their final game of the group stages against Belgium, England looked like they could realistically challenge for the World Cup this time round. Although they should not be completely written off, with a 2-1 win over Tunisia and a 6-1 demolition of Panama, they no longer appear as likely to win as was thought earlier this week. England will take on Colombia next, with the winner playing either Sweden or Switzerland in the quarter-final.
4 – Brazil
Brazil come in 4th in the power rankings, showing you just how open it is in terms of possible victors. They did well in the group stages, failing to lose a single game; yet a draw with Switzerland in their opener showed cracks in their side – as did leaving it late against Costa Rica. Neymar is yet to find his top form but, when he does, Brazil could find themselves clear favourites for the trophy. Brazil will play Mexico in the R16 with the battle of the Americas set to be a thrilling spectacle.
3 – Belgium
Belgium have looked like one of the most formidable teams going forward this World Cup and therefore come 3rd in our power rankings. Cementing a 100% win record by defeating England in the final game of the group stage, Belgium are looking deadly in all areas of the field. They play Japan next and will be anticipating a quarter-final against either Mexico or Brazil.
2 – Uruguay
Although they don't play the most attractive football, you cannot deny that Uruguay know how to play for the win. Dubbed the 'Atletico Madrid of international football', partly down to their solid centre-back duo Jose Gimenez and Diego Godin, Uruguay could go far in this tournament and made it through a group with Russia, Saudi Arabia and Egypt without conceding a single goal.
1 – Croatia
A controversial choice perhaps, Croatia's 3-0 win over one of the pre-tournament favourites in Argentina, along with a 2-1 win over Iceland and a 2-0 win over Nigeria makes them one of the strongest sides in the tournament. They have wowed football fans with their exciting football, led by the sheer midfield brilliance of the talismanic Luka Modric. Croatia play Denmark next round and will hope to keep their good form up as they aim big for their first World Cup title.