At a World Cup, there are always a few things that you can always bet your house on.  There will be controversy, a world class star will light up the tournament and, most romantically, an unknown will have the tournament of his life and etch his name into footballing history.
At the 1990 World Cup in Italy, an unknown player like no other made his mark on the biggest sporting event on the planet. When Italy announced their squad, it was littered with world-class talents and household names. Franco Baresi, Roberto Baggio and Gianluca Vialli were just the tip of this South European iceberg. The Azzurri were tipped by many to utilise their home advantage and secure a fourth World Cup win.
And yet, amongst all these front-page headliners, there was one name that got Italians talking more than any other. Before Italia 90, if you had asked any football fan about Salvatore Schillaci, most would ask: "who?"
After four weeks of goals, emotion and 'that' celebration against Austria, nobody would ever forgot 'Toto' again.
After an impressive debut season in a rebuilding Juventus side, he netted 15 goals, Schillaci wasn't a total no-name within the confines of Italian football.  That being said, he only had one senior cap to his name heading into the tournament and was a complete mystery to all those outside the Italian game. He was included in the squad as the fanciful last resort, brought on only in that unlikely event that Italy had exhausted all other options and just had to pull any flea-ridden Rabbit out of any musty old hat.
Luckily for Schillaci, that event came around in Italy's first game.
Heading into the final 15 minutes, Italy were still being held at 0-0 by Austria and were on course for a deflating draw in what was supposed to be a celebration of Italian football. Azeglio Vicini knew he had brought a trump-card to this World Cup and, on 76 minutes, he played it. Schillaci jogged on to the pitch and doubled his international cap tally.  Two minutes later he got onto the end of a Gianluca Vialli cross and got his first ever international goal. His wide-eyed, arms aloft celebration has since gone down as one of the most iconic moments in World Cup football and captured the hearts of the entire nation.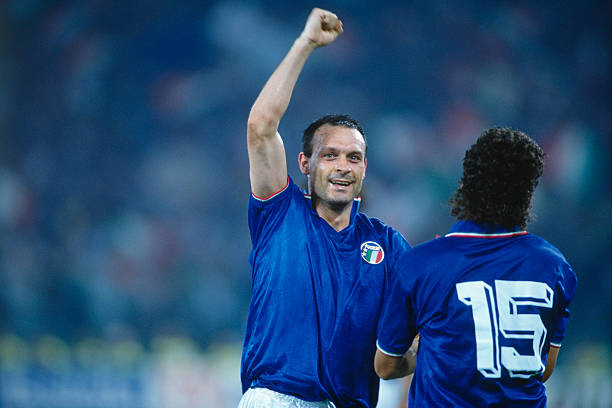 Schillaci quickly established himself as the vital component in Italy's side at the World Cup.  Another substitute appearance against the USA was followed by a first start against Czechoslovakia.  Partnering Roberto Baggio up-front, the 25-year-old Scillian opened the scoring inside 10 minutes. Baggio added a second late on as Italy sealed a 2-0 victory, the world started to take notice of Schillaci.
Again, Vicini went for the Schillaci-Baggio duo in Italy's next two matches of the knock-out stages. 'Toto' opened the scoring in the second round and quarter-finals, against Uruguay and the Republic of Ireland respectively.
Italy faced the defending champions, Argentina, in the semi-final. Gianluca Vialli replaced Baggio in the starting line-up, whilst Schillaci again kept his place in the starting XI. The match ended 1–1, with Schillaci scoring his fifth goal of the tournament. Italy were eliminated after a penalty shoot-out and Schillaci controversially refused to take a penalty.
Schillaci scored his sixth, and final, goal of the 1990 World Cup in the third-place play-off against England, an 86th minute winner from the penalty spot.
After Italia 90, Schillaci only managed one more goal for Italy and his career ultimately faded away. His time in the spotlight was a brief and fleeting moment. However, after securing a Golden Boot and Golden Ball out of absolute obscurity, Salvatore 'Toto' Schillaci's name will forever be illuminated alongside the very best to grace football's greatest stage.